I thought I'd add a little bit about Gaston Leroux to the blog. He's a fascinating guy. Everyone thinks of the Phantom when they think of him, but there's more. I am honored to have worked on one of his works, The Phantom of the Opera. But check him out. He's a neat guy.
Here's a little bit from Wikipedia:
By Cliché anonyme,
l'auteur n'a jamais revendiqué
la paternité du portrait. (www.fnac.com)
[Public domain or Public domain],
via Wikimedia Commons
Leroux was born in
Paris
in 1868. He went to school in
Normandy
and studied in Paris, graduating in 1889. He inherited millions of francs and lived wildly until he nearly reached bankruptcy. In 1890, he began working as a
court reporter
and
theater
critic for
L'Écho de Paris
. His most important journalism came when he began working as an international correspondent for the
Paris
newspaper
Le Matin
. He was present at, and covered, the
1905 Russian Revolution
.
law
Another case at which he was present involved the investigation and in-depth coverage of the former
Paris Opera
(presently housing the
Paris Ballet
).
[2]
The basement contained a cell that held prisoners of the
Paris Commune
.
Leroux published his most famous work, The Phantom of the Opera, as a serial in 1909 and 1910 and as a book in 1911.
By Popular Fiction
(Scanned cover of pulp magazine.)
[Public domain],
via Wikimedia Commons
He suddenly left journalism in 1907, and began writing fiction. In 1909, he and Arthur Bernède formed their own film company, Société des Cinéromans to simultaneously publish novels and turn them into films. He first wrote a mystery novel entitled Le mystère de la chambre jaune (1908; The Mystery of the Yellow Room), starring the amateur detective Joseph Rouletabille. Leroux's contribution to French detective fiction is considered a parallel to Sir Arthur Conan Doyle's in the United Kingdom and Edgar Allan Poe's in America. Leroux died in Nice on April 15, 1927, of a urinary tract infection.
I took a little flack for adding kink to the Phantom, but I bring this title of Leroux's to attention:
1924 - "Not'olympe" (English translation: "The Mystery of the Four Husbands", 1929)
How's that for some kink? I'm not sure if it's really about a fivesome, but what if it was? Just saying, that could be cool.
Here's a little bit about my collaboration with Leroux, The Phantom of the Opera:
The Classics Exposed…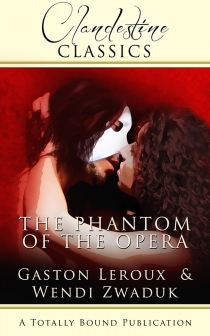 A chance sighting at the Opera, fated love, and three lives in turmoil.
One man pledges to own her, while another wants her heart. The Opera sets the stage for romance and intrigue. In the catacombs below the building lives a man rife with sorrow and passion. The Phantom. But he's not content to live alone. He wants to possess the one woman who can set him free.
His Christine.
Viscount Raoul de Chagny doesn't believe the rumours of a Ghost living below the Opera. He only has eyes for Christine, his childhood friend and first love. Together they embark on a sensual journey of discovery and fiery desire.
But she can only have one man. Will love raise her up or tear their world apart?
* * * * *
@Copyright 2012 Wendi Zwaduk and Gaston Leroux